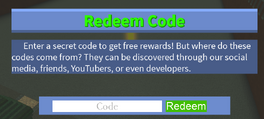 DISCLAIMER: Administrators cannot create codes nor ask the creators for codes.
Codes were added on 8/23/2018. Codes can be redeemed for blocks or gold. You can find the codes when you go to Settings and scroll down.
Known Codes
NOTE: Some codes on this page will work in new servers. Please join a VIP or new server before marking a code invalid or removing one.
| Code | Validity | Release Date | Expiration | Reward(s) |
| --- | --- | --- | --- | --- |
| test | Expired | 8/23/2018 | 8/24/2018 | |
| huge treasure chest | Expired | 8/26/2018 | 9/25/18 | |
| tasty treasure | Expired | 8/26/2018 | 9/25/18 | |
| =D | Expired | 8/26/2018 | Unknown | |
| =p | Valid | 8/26/2018 | Unknown | |
| hi | Valid | 8/26/2018 | Unknown | |
| squid army | Valid | 8/27/2018 | Unknown | |
| baffling butter | Expired | 8/27/2018 | 9/24/18 | |
| t-rex | Expired | 8/27/2018 | 8/28/18 | |
| fast potato | Expired | 8/28/18 | Unknown | |
| moldy bread | Expired | 8/28/18 | Unknown | |
| fat rainbow | Expired | 8/29/18 | Unknown | |
| friendly t-rex | Expired | 8/29/18 | 9/20/2018 | |
| cill trill | Expired | 9/9/2018 | 9/9/2018 | |
| fabulous fabric | Expired | 9/9/2018 | Unknown | |
| ice pops | Expired | 9/9/2018 | Unknown | |
| fire+work | Expired | 9/9/2018 | Unknown | |
| code fission | Expired | 9/9/2018 | Unknown | |
| up above | Expired | 9/9/2018 | Unknown | |
| leescode | Expired | 9/15/18 | 9/20/18 | |
| code fashion | Expired | 9/22/2018 | 9/23/2018 | |
| chillthrill709 was here | Valid | 9/27/18 | Unknown | |
| october squid | Expired | 9/28/18 | Unknown | |
| chill says hi | Expired | 10/2/18 | Unknown | |
| the official butter | Expired | Unknown | Unknown | |
| twisted treat | Expired | 10/31/18 | Unknown | |
| new planes | Expired | 11/23/18 | 11/24/18 | |
| early gift | Valid | Unknown | Unknown | |
| 200M visits | Expired | Unknown | Unknown | |
| sorryfortheping | Expired | Unknown | Unknown | |