Description
Chillz's Plushie is a block that was released at August 18, 2018 at 15:00 UTC and can be obtained by going in a small room hidden behind the last large waterfall on the right of the Geyser Terrain.
Obtaining Chillz' Plushie
Build a boat to get to the big waterfall at the right of the Geyser Terrain and walk into the room behind the waterfall.
Inside of the secret room, there is a bookshelf that requires the player to solve a puzzle by picking the right book. If any wrong books are pulled, various traps will activate. The puzzle is solved by pulling colored books that correspond with the colors of the crystals on the door. The correct order to pull the books is listed below.

Rightmost crystal (Yellow book)
Leftmost crystal (Red book)
Second rightmost crystal (Pink book)
Second leftmost crystal (Light blue book)
Center crystal (Lime green book)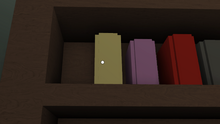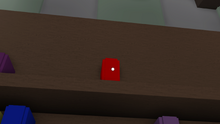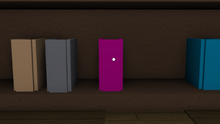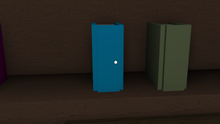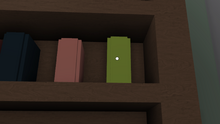 Completing the book puzzle will open up a stone door, revealing the plushie on a pedestal.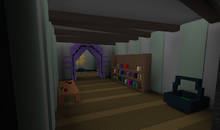 Trivia
In comparison, Chillz' Plushie is slightly bigger than Worthy's Plushie (due to the sword on the back).
The Plushie will turn reflective just like the Worthy's Plushie when the Mystery Block tries to turn it gold.
The Chillz' Plushie is the avatar of the creator of Build a Boat for Treasure (chillthrill709).
The Chillz' Plushie is the second plushie to be added into the game.
You can only get one.
The three (known) ways of it killing you when you pull the wrong book are: Exploding pumpkins, The cauldron spilling its deadly liquid and hostile clones.
The geyser terrain does not appear most of the time, so it makes the Chillz plushie very rare and difficult to get.